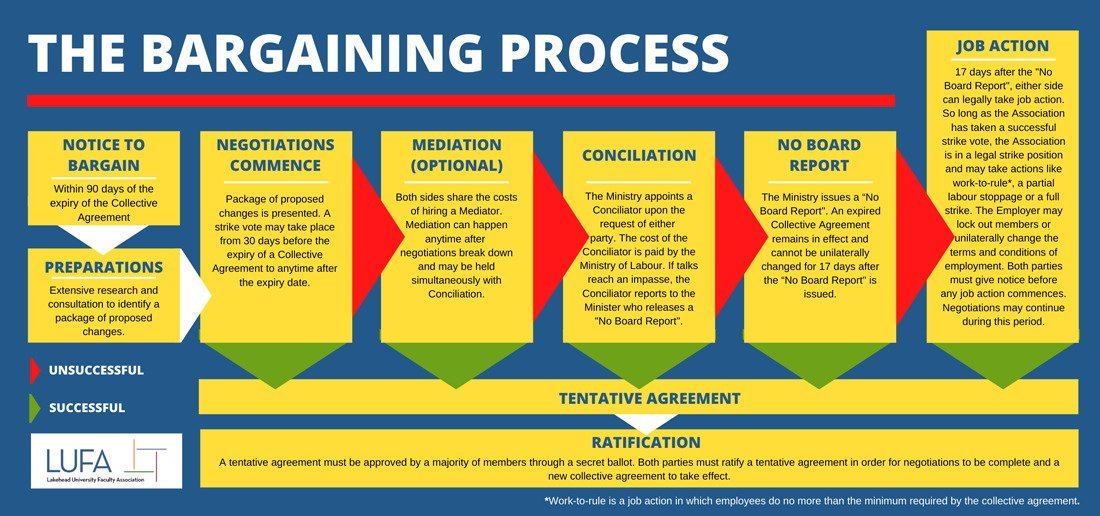 Adapted with permission from UOIT Faculty Association with further input from CAUT, September 3, 2020
As the Lakehead University Faculty Association (LUFA) continues to bargain with the Board of Governor's representative, we want to ensure that our members have as much information about the process as possible. Please read carefully through the following FAQ for general information about the bargaining process including information on Strike Mandate Votes.
Definitions
Normal Bargaining
Meetings are scheduled between LUFA Negotiating team and Lakehead University Board of Governor's Negotiating team. During the negotiations, LUFA promotes the professional interests of its members, protects academic freedom and tenure, negotiates and monitors employment relations between the academic staff and librarians and the Board of Governors of Lakehead University, and endeavours to obtain and preserve adequate conditions of salary, financial security and employment.
Intensive bargaining
This phase involves the same process as normal bargaining, but the timeline is condensed with consecutive all-day sessions to increase momentum towards a deal.
Conciliation
Conciliation can be requested by either side and is a common step in the bargaining process. This process is offered by the Ontario Ministry of Labour to provide help in reaching a collective agreement. Either party may apply to the Ministry for a conciliator. Conciliators focus on getting a collective agreement settled. Conciliation is mandatory before the parties can engage in a strike or lockout. If conciliation does not result in an agreement, a legal strike or lock-out may begin on the 17th day after the day the Minister of Labour releases a written notice to the employer and the union that conciliation has ended. During this "countdown" period, bargaining continues. [Reference: Ontario – Bargaining]
Mediation
Optional – both parties have to agree. It involves a neutral third party who helps the parties negotiate a settlement. The Ministry of Labour can provide further assistance by appointing a government mediator, or both parties can hire a private mediator to help them reach an agreement.
Lockout
A work stoppage forced by the Employer. This is done to compel the employees to accept a collective agreement (i.e. – LU Board of Governors prevents us from coming to work). This can only occur after 17 days following the end of conciliation. [Reference: Ontario – Bargaining]
Strike
A withdrawal of an employee group's services to an employer. This is a democratic pressure tactic academic staff can use in a unionized environment to get a fair settlement. If a union hasn't held a strike vote even as it underwent a process of conciliation, a strike cannot legally take place.
Strike Mandate
A strike mandate does not automatically result in a strike. It can be used to secure a better deal at the table, but it must be credible. The LUFA negotiating team must receive direct and explicit empowerment from the membership in order to be able to carry forth a strike. This means that without a strike mandate, there is very little strength behind each proposal put forth by the negotiating team. Strike mandates are arrived at through a secret ballot election run by the LUFA. The majority of those voting must be in favour of a strike mandate in order for the negotiating team to be empowered. The result and turnout of this secret ballot is given to the Executive which decides how and when to release the results.
Ratification
At the end of the negotiation process, members get to vote through a secret ballot to accept or reject the new agreement. Similarly, the LU Board of Governors must also ratify the Collective Agreement. Both parties must ratify an agreement before it can be implemented.
Why should I give the Bargaining Team a Strike Mandate?
Strike preparedness sends a strong message to the employer about the unity and conviction of LUFA members. It also sends an unequivocal message that the membership stands behind its Negotiating Team.
Do negotiations continue after a strike mandate is received?
Yes. Both sides continue to negotiate in an effort to achieve a collective agreement.
How can I help LUFA to reach a fair and equitable settlement with the Employer?
At this point, you can help by attending general meetings, reading negotiation bulletins, and talking about issues with your department representatives, LUFA Executive, member of the Action Team, and other members. You can also volunteer with the Action Team to do as little or as much support work for your team as you are able. In summary, LUFA is asking you to do the following:
1. Provide LUFA, with your private contact information including: Name, address, phone number and alternate email address using LUFA's alternate email address: [email protected]
2. Encourage at least three of your colleagues to do the same.
3. Discuss the bargaining issues with your colleagues and express your concerns to others in the University community.
4. Follow developments at the Negotiating Table and with the Action Team.
5. Volunteer to assist the Action Team.
Does a strike mandate lead to a strike?
In most cases, it does not. Often a strong strike mandate alone is sufficient to get the Employer to take the union seriously in negotiations. There is an extensive process that must occur before LUFA would take a strike position:
1. The LUFA, the Employer, or both apply for conciliation
2. A conciliator is appointed and conciliation dates agreed to;
3. There is at least one conciliation meeting in the attempt to reach an agreement
4. Conciliation reaches impasse
5. The Ministry issues a "no-board" report. There is seventeen days waiting period. After all of these steps, the LUFA Executive would call a strike if and when there seemed to be no other way to reach an agreement. After seventeen days, the Employer could lockout LUFA members.
A strike or lockout does not happen overnight; there is plenty of advance warning and significant planning involved. [Reference: Ontario – Bargaining]
Do I need to be worried about a possible strike or lockout?
At this stage, you do not. However, you should be aware that a strike or lockout is possible, and you should become familiar with the vocabulary and practice of legal strike action. It is important to learn about the issues at stake. While a strike is unlikely, it is always important to be financially prudent and to plan ahead. In university bargaining, strikes are much less frequent than strike mandates, and lockout is a rare event at Canadian universities.
Striking LUFA members receive financial support in the form of strike pay. LUFA is a member of the CAUT Defence Fund. If the LUFA is on strike, this fund disperses to the union strike pay from its ~ $32 millions reserves an amount equal to $88 per member of the bargaining unit for each of seven days of the week. These non-taxable funds are distributed by the union only to those members who perform strike duty (such as picket duty or other equivalent work for the strike headquarters).
Most employers allow benefit plans to continue through a strike if the union covers the cost. If the employer is being punitive and resists the continuation of benefit plans, alternative arrangements are in place through the CAUT Defence Fund and CAUT. Regardless of coverage, it is to your advantage to purchase eyewear, visit the dentist, stock up on medications, and schedule other routine medical procedures covered by our benefits prior to a strike or lockout deadline.
What must I do to qualify for strike pay?
You must participate in strike duty assigned by the Action Committee. You must sign in for strike duty each day to receive strike pay.
Will I have access to campus during a strike or lockout?
No, except under limited circumstances where the Action Committee has issued a picket line pass (e.g., to feed lab animals, etc.). Even those members who receive passes must participate in all other strike activities, such as picket line duty. It is useful to begin thinking now about what you might need to remove from your office or lab prior to a strike deadline.
Will I have LU email access?
At some universities, the union and administration have signed protocols that permit for the continued use of university email; some other universities do not. Because our employer may prove to be punitive and restrict email access, we ask every member to retain an outside email account and to notify LUFA of their alternative email address and phone number.
Will I receive strike pay if I am on sabbatical, parental/maternity leave, or disability leave?
It is LUFA's position that members on sabbatical, disability, and parental/maternity leave should be considered as not participating in the strike action and should continue to receive pay and benefits from the employer. At this point, we do not know what the employer's position would be with regard to sabbaticants. If the employer decides to act punitively, the union will provide strike pay to sabbaticants at the same rate as those members who can participate in strike duty.
If I am a program chair, program director or assistant dean do I have to go on strike?
Yes, all LUFA members have to go on strike.
What sort of financial preparations should I make before a strike or lockout?
It is never too early to begin thinking about prudent financial preparations for a potential strike or lockout. If a strike or lockout appears to be imminent, you should consider contacting your bank managers, mortgage officials, or other financial advisors and inform them of potential strike or lockout. You should be aware that some credit card companies and banks offer insurance in case of strike or lockout and can also make alternative payment schedules. You will need to check with your own financial institutions. LUFA can provide a letter explaining the situation for your financial situation if you wish. If you have expenditures that need to be reimbursed by the university, it is to your advantage to submit receipts in a timely manner.
How can I stay informed and get involved?
Continue checking your LU e-mail, and also send your alternate email to LUFA's alternate email: [email protected]
Who should I contact if I have additional questions?
If you have additional questions, please contact any member of the LUFA executive or your department liaison member. You can contact the LUFA: [email protected]
The collective bargaining process requires careful and extensive preparation, and part of this preparation includes the formation of an Action Committee. While the LUFA continues to bargain in good faith with the LU BoGs with the goal of reaching a fair and equitable collective agreement, our members need to begin preparing for the possibility of a "no-board" report, which would put us in a legal strike or lockout position seventeen days later. No union enters negotiations with the intention of facing a strike (or lockout), but the LUFA would be remiss in its duty to represent its members and further their goals to the maximum extent provided by labour law if we did not plan for the possibility of a strike. If you would like to be part of this committee, please contact LUFA: [email protected]
No experience is necessary and training and support is received from the Ontario Confederation of University Faculty Associations, the Canadian Association of University Teachers, as well as other faculty associations. Service on the committee is considered service to the university as it is service to the FA.
Strike preparedness sends a strong message to the employer about the unity and conviction of members of the bargaining unit. It also sends an unequivocal message that the membership stands behind its Bargaining Team so it can negotiate the best possible deal for you.